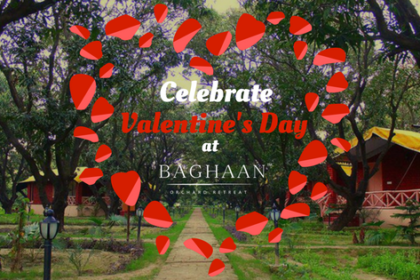 Valentine's day is just around the corner – this is the season of love, Cupid, roses and chocolate. So, this year celebrate the season of love with your beloved one with a Valentine's Day vacation at Baghaan Orchard Retreat resort near Delhi.
Though, it is easy to sympathise with someone if they say that they're finding it hard to plan for the upcoming Valentine's Day. Everyone wants to make it special for their better half, and the fear of screwing up makes it doubly difficult. But that's where we come in to give the pleasure of "Green Romance" at Baghaan Orchard Retreat resort near Delhi. The resort is unique in every sense of the word, as it effortlessly maintains the old world charm during your visit to Baghaan.
Indeed, it is the most romantic day of the year and you should not miss taking the pleasure of this day fully with your better half at a beautiful resort near Delhi and we provide the best services on this special occasion to make it a memorable and unique one for you. The lovers can enjoy a variety of romantic escapades from dinner by the iconic fireball to private dining in our beautiful mango orchard gardens. The farm-to-table menu for the occasion has been designed by our specialised chef's team that ensures love at first bite.
Lit by glowing candles and with the cool breeze, Baghaan Orchard Retreat is the ultimate spot for a romantic evening. Guests can gaze into each other's eyes while enjoying a sensory inspired special menu that has been carefully crafted for his special day. The sound of the soulful music will whisk guest away into the evening and all the ladies will receive a rose to take home. For a bonfire dinner at the centre of the beach, couples can opt for a romantic table for two that has a view of the hotel grounds surrounded by mango orchards.
The accommodations at our resort during your normal stay or special valentine stay will always include luxurious hospitality. If one chooses to dine in, our rooms are provided with the private balcony and the elegant deluxe or presidential guest rooms. Ready yourself for a day in mango orchards garden.
So, if you want to propose your partner this valentine's day in a pristine resort with a romantic environment we are here to ease up all your work. We at Baghaan Orchard Retreat resort near Delhi never had anyone say 'no' to the question 'will you marry me?' at our resort there must be something in the air which make everyone fall for love at first sight.
Nevertheless, the couples will enjoy leisure time spent together relaxing in our pools and candle light dinner in the mango orchard resort. The spa will pamper couples with a romantic rose petals soak and aromatic massage. Consequently, whether couples are looking to rekindle, rediscover or simply recreate beautiful memories Baghaan Orchard Retreat near Delhi is sure to say it all.
" Here your cares become our concerns, unexpressed wishes are fulfilled and each day is made more memorable than the last."